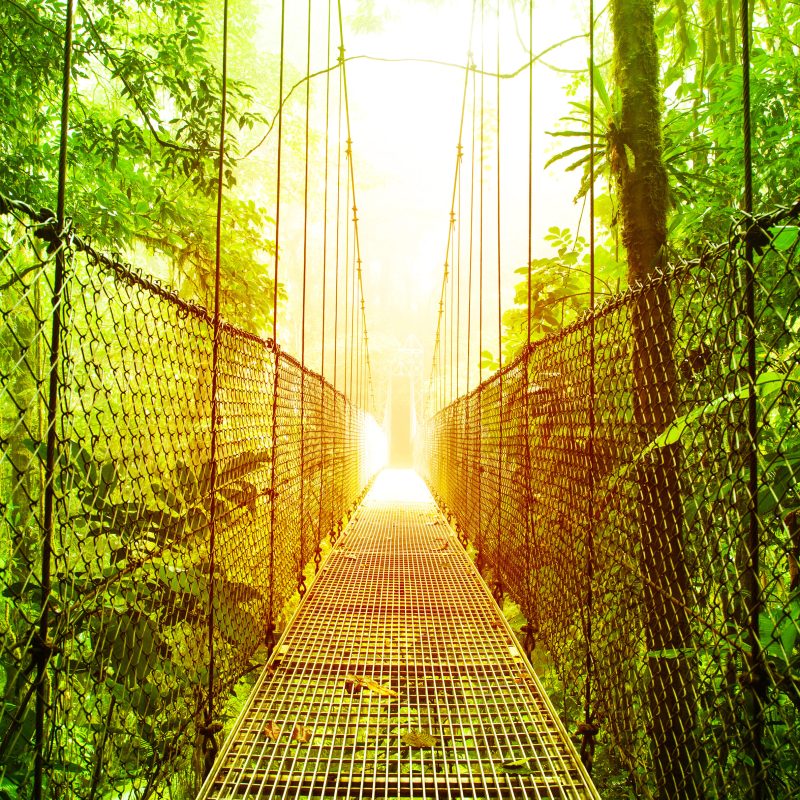 We all love the idea of checking off the boxes on our bucket list, but for many of us, taking bucket-list-worthy trips can be a struggle financially. If you're looking for some of the world's most memorable experiences without having to break the bank, here are 5 bucket list trips you can take on a budget:
1. Dive With Great White Sharks In South Africa
Want an adrenaline rush that you won't soon forget? How about swimming with man's greatest predator and living to tell about it?
South Africa is one of the best locations to get up close and personal with the top of the marine food chain. Minutes off of the coast of the Western Cape, at the fishing town of Gansbaai, you can hop on a boat and take the quick ride out to Shark Alley. Once there, you'll slip into the chilly water, where only the cage bars separate you from these massive, sleek creatures. This is your chance to face your fears by staring into the coal black eyes of a great white shark!
Is jumping into the water with these beauties a little more extreme than you had in mind? Go for the boat ride anyway and watch as others get into the cage for what can only be described as the ultimate adrenaline rush.
Great White Sharks are by no means the only draw in this beautiful and culturally diverse land often referred to as the "rainbow nation". South Africa offers something for everyone — awe-inspiring landscapes, heart racing safari adventures, world-renowned wineries, and a melting pot of cultures make this a must-see location for your bucket list.
If the sharks don't interest you, how about witnessing the breath-taking views of a sunset at 3600 feet atop Table Mountain? Or maybe you're a wine aficionado? Some of the world's finest wines are produced in South Africa. You can sip them while gazing over the vibrant emerald rolling fields of the many vineyards in the Franschhoek region, while lunching on artfully prepared cuisine.
To learn more about this beautiful country, check out our list of reasons Why South Africa Belongs On Your Bucket List.
2. Take An Alaska Cruise In The Summer
Where can you see whales, bears, moose, and glaciers from your own private balcony — without leaving the country? Take an Alaskan Cruise through the Inside Passage during the summer months, when it is less crowded and more economical. To really make it an unforgettable experience, spend a second week touring by car, visiting the magnificent national parks.
Spend some time in Denali National Park and try to spot what is referred to as the "Denali Slam": moose, wolves, Dall sheep, caribou, and grizzly bears. Summer is the perfect time to hike, fish, kayak, or just relax and marvel at the majestic Alaska Mountain Range, soaring 20,310 feet into the clouds.
For more info about Alaskan cruises, here are 7 Reasons To Consider An Alaskan Cruise. If you're looking for a less traditional cruise option, be sure to read over our piece on traveling through Alaska By Small Ship Cruise.
3. Hike The Jungles And Rainforests Of Costa Rica
If you've always wanted to know what it's like to be Tarzan, pack your bags and head off to Costa Rica. A tiny country that offers big adventures, and proud to be one of the global leaders in conservation, Costa Rica is the model for sustainable tourism. With over thirty percent of the country in protected preserves, you can literally swing through the jungles here while surrounded by thousands of species of exotic wildlife and fauna.
Pull on your hiking boots and explore forests packed with thousands of species of wildlife, some of which are unique to Costa Rica. As you make your way through the leafy hanging vines and dense ground cover, you can hear the chattering and singing of animals announcing your presence. Discover the beauty of the rainforests, whose treetop canopies serve as natural skyscrapers in a diverse city of screeching parrots, howling monkeys, and silent, almost invisible tree sloths.
If you really want to feel like Tarzan, take a zipline tour for one of the most exhilarating ways to experience the jungle. If marine adventure is more to your liking, there are also some great whitewater rafting trips that snake through the jungle.
Costa Rica embraces the animal kingdom, and animal rehabilitation centers are plentiful throughout the country, with volunteers nursing injured animals back to health and releasing them into the wild. You can visit a jaguar rescue, a sloth rescue, and an anteater rescue center all in the same day.
If the diverse wildlife and breath-taking views don't arouse your senses, stop at one of the local street vendors and get a yoda, the common word for coffee. The coffee here ranks among the best in the world.
The people of Costa Rica are some of the most welcoming and happiest people on earth. With 99% of the country's power coming from renewable resources, the term "pura vida" or pure life is not just a saying, but a way of life here.
To learn more about Costa Rica, check out our article on How To Plan The Perfect Costa Rica Vacation or our list of 15 Things Everyone Should Do In Costa Rica.
4. Sail The British Virgin Islands
It's a great time to visit the British Virgin Islands. Recent hurricanes did a lot of damage, but the island people are very spirited and have made a strong comeback. Try becoming the captain of your own ship by renting a motor or sail boat and touring the islands!
You can sail around the four main islands of Jost Van Dyke, Virgin Gorda, Anegada, and Tortola, or explore any of the other 50 or so smaller islands. With crystal clear turquoise waters and sugar white sand beaches, your inner pirate will never want to leave. You can choose to captain your own vessel or hire a captain that will drive for you while you lay back and enjoy the ride.
Whether you decide to be the captain or the admiral along for the ride, one must-see attraction is The Baths of Virgin Gorda. Christopher Columbus dubbed the island Virgin Gorda (meaning "Fat Virgin") because he thought the giant rounded granite boulders that form the rocky shoreline looked like a large woman laying on her side from a distance. The giant rock formations are surrounded by clear, shallow turquoise waters and have been named "The Baths", as locals once believed that they offered magically anti-aging powers and would bathe in them daily! Now a national park, this unusual 7-mile stretch of shoreline was formed by volcanic activity and erosion and is perfect for a day of snorkeling and photographs.
When you are done cruising for the day, pull your yacht into one of the many new docks that service the resorts and indulge yourself with a spa ritual. After a relaxing spa treatment, visit one of the local restaurants to feast on lobsters so big they are served on platters. Something about the warm beautiful waters here make the lobsters ginormous!
A relaxing sailing trip through the British Virgin Islands will rejuvenate your soul.
5. Take A Ship Through The Panama Canal
Long considered one of the greatest engineering achievements of modern times, the Panama Canal has been named one of the Seven Wonders of the Modern World. The 50-mile stretch of man-made canal consists of a system of 3 locks which, once filled, act like a water staircase to allow ships to pass through Central America rather than sailing all the way around South America. Operating 24 hours a day, the canal allows vessels of all sizes to cross between the Atlantic and Pacific oceans after paying a toll. About 15,000 ships make the trip through the Panama Canal each year!
To fully experience how the lock system works, you can take a boat tour through the locks and be able to say you crossed the Continental Divide. The Miraflores Locks have a visitor center where you can learn all about the canal, and a restaurant where you can dine as you watch the ships go by.
Bucket List Budget-Friendly Tips:
Use Google flights to track airfare deals.
Travel during off-season or during the shoulder season.
Take advantage of the currency exchange rates where the dollar is strong.
Use senior discounts when visiting popular attractions or booking tours and accommodations.
Don't travel during major holidays such as Christmas or New Years.
Consider volunteerism trips.
Take advantage of self-guided tours whenever possible.
For more bucket list ideas, check out our list of 10 Overlooked U.S. Cities or 10 Overlooked European Cities To Add To Your Bucket List. If the idea of a bucket list fascinates you, you may also be interested in our Interview With 'Bucket List' Screenwriter Justin Zackham.
Happy trails!
Carol and Mike Ivey are freelance writers and photographers with a passion for travel. Follow along as they share their travel experiences as 50-somethings that still love adventure and seeing the world at www.CuriousGypsies.com. They are currently based out of Charleston, South Carolina where they live aboard their 53-foot Hatteras Motor Yacht, Gypsy Soul.