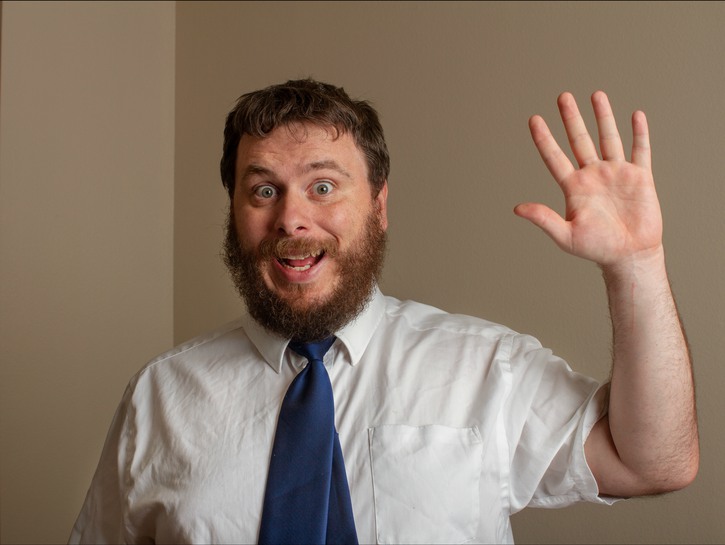 Anyone can survive a timeshare presentation – with a bit of preparation.
My father was the last person on earth to have an interest in travel hacking. He didn't believe in points cards or loyalty programs. He wasn't interested in combo deals or tracking down error fares. But he excelled at surviving and thriving in timeshare pitches.
It wasn't that he had any interest in owning a timeshare. In fact, he thought they were an absolute racket. But timeshare presentations are famous for offering generous incentives. And my father was a master of the game. He'd listen to the initial pitch, take note of the details — "So just a 60-minute presentation and we get two tickets for the dinner cruise?" — walk into the presentation room, and set the alarm on his watch. At precisely the 60 minute mark, he'd get up, demand his free boat passes, and march out the door.
It wasn't exactly a winning attitude, but he easily racked up thousands of dollars worth of free entertainment, services, travel amenities, complimentary casino chips, and even cold hard cash during his winter snowbirding sessions. But not everyone is born with this kind of brashness. I know I sure wasn't! Still, with a bit of planning, any traveler can survive the dreaded timeshare pitch and maybe — just maybe — profit from it like my dad did.
Understanding the timeshare game
First, you have to understand the game. On TV, timeshare salesmen are often depicted as desperate carnival barkers, hawking wares no one wants to buy. But in real life, timeshares are big business. Colossal. The kind of big where it makes good financial sense to grease thousands of palms with Cirque du Soleil tickets, stacks of casino chips, sightseeing cruises, and crisp $100 bills just to get people through the door. Because once they're in, the odds are in the company's favor. Even stoic, sensible travelers can find the allure of the timeshare pitch irresistible.
How do tens of thousands of people who swear that they have no interest in anything other than free Disney passes end up making a massive financial decision on the fly? It helps that timeshare salespeople are the best in the business. And that they ask a never ending series of "yes" questions. ("Do you love to travel?" "Do you want to travel more?") They also ask questions that make a "no" seem impossible. ("Which of the models do you like the best?" "Which of these would your kids have the most fun at?") And when there is a chance to squeak out a "no", you can be certain that they have heard of every possible objection and they have carefully planned a solution. Everything from no down payment mortgages to long distance phone calls to overseas parents can be arranged in an instant.
It's crucial to understand that they are much better and smarter at this than you are and that the incentive they offer is purely to increase your sense of investment in the relationship they are forming with you. If ever there was a time to put on your "buyer beware" hat, this is it.
But even under immense sales pressure, you can still thrive. Assign one person in your group to be the "no-man", the person who is always grumpy, never willing to crack a smile, and definitely not going to contribute any spontaneous bursts of enthusiasm. And plan your exit strategy well in advance. A wishy-washy excuse like, "We'll need some time to think it over," is the worst thing you can say. This will trigger further rounds of talks with supervisors and deal-closers. A simple but firm, "No, this is not for me, we have to leave now," will work.
If require a softer but still effective strategy for comfort's sake, try: "We have to leave at the 60-minute mark in order to give Fido his insulin." No one argues with a sick dog.
The devil is in the details
Secondly, you have to understand how the exchange really works. It's rarely as simple as touring a new resort, giving them some feedback, receiving some travel vouchers, and heading out the door. This is not a 60-minute relationship. You can expect extensive paperwork which asks some very personal questions about your finances and lifestyle. You can anticipate extensive follow-up calls and emails. And complicated stairways and hallways are part of the package — it's REALLY hard to leave after 60 minutes. There might even be a shuttle bus involved!
To mitigate these concerns, consider setting up an email address just for these kinds of offers. You can also write "no phone calls" or "no mailing lists" on the form. You don't have to answer these questions in depth (or even with much honesty). Take a photo of your form before you submit it and program a local taxi company's number in your phone, just in case.
Third, clarify, clarify, clarify. Does the entire experience take 60 minutes? Or is it more like 160 minutes, once you arrive early to fill out the paperwork, sit through the "introductions" and "guest speaker announcement" and then get to the main body of the presentation? At the 60 minute mark, can you indeed leave and, if so, how do you physically get your vouchers? Every additional minute you're kept in that room and exposed to marketing materials raises the odds that you'll invest. They do not want to make it easy for you to leave.
Value your time and know your authority
Fourth, understand what you're being offered. Will you really get tickets to a Cirque du Soleil show, or were all those vouchers claimed early and now only B-list entertainment options are left? Is the incentive something that's "free" — like a cruise to the Bahamas — but you are responsible for your own taxes, fees, and surcharges, making that freebie a most expensive gift? Attending a timeshare presentation is only worthwhile if the incentive is something you will love and use.
Know the value of your time. Sitting through a two-hour tour and pitch to receive pricey Disneyland tickets isn't a bad deal. But four hours of your time to receive tickets for a generic booze cruise that wasn't on your bucket list is arguably not time well spent — especially when you can find 2-for-1 coupons in every newspaper. To ensure there's no confusion when it's time to claim your vouchers, take down the name, number and agency/location of the person who pitched you and be prepared to stand up for what you were promised.
Finally, while I definitely don't recommend my father's level of abruptness for everyday interactions, it IS important to be firm and succinct in your conversations with salespeople. It can be incredibly disconcerting to say "no" to someone, to their face, again and again, when all they've done is try to become your friend. Remember, it is up to YOU to actively end the pitch. They never will.
Now go enjoy your free dinner and show!
Vanessa Chiasson is a wimpy traveller with a weak stomach but that hasn't stopped her from sailing to the Aran Islands, running a marathon in Paris, and working on Malawian fish farms. She blogs about affordable travel and culinary adventures at TurnipseedTravel.com and her freelance work has appeared in the Globe and Mail, USA Today, FlightNetwork.com, Plum Deluxe, and The Establishment. Follow her on Twitter @Turnipseeds.