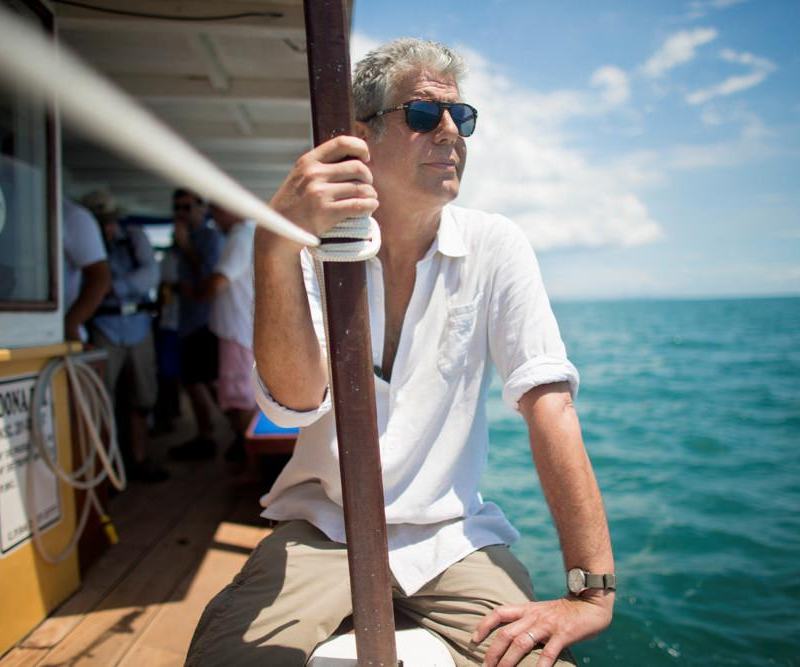 Vanessa Chiasson is a wimpy traveller with a weak stomach but that hasn't stopped her from sailing to the Aran Islands, running a marathon in Paris, and working on Malawian fish farms. She blogs about affordable travel and culinary adventures at TurnipseedTravel.com and her freelance work has appeared in the Globe and Mail, USA Today, FlightNetwork.com, Plum Deluxe, and The Establishment. Follow her on Twitter @Turnipseeds.
The death of celebrated chef, writer, and television personality Anthony Bourdain devastated food and travel enthusiasts worldwide. Among Bourdain's many legacies is the television programming he spearheaded and hosted, which transported viewers from their living rooms to some of the world's most delicious destinations.
One of those programs, Parts Unknown, quickly became a classic. Here are five of its most groundbreaking episodes, sure to inspire instant wanderlust.
1. Myanmar (Season 1, Episode 1)
Darko C, Eaid Dhi, and Hein Lwin are Side Effect, Myanmar's premier indie punk band. They have solid musical chops and a touch of rock star swagger, the kind that lets you sit next to a celebrity chef and drink beer, snack on grilled tofu and pork tails, and casually chat about food, politics, censorship, and music. Bourdain, for his part, can't help but let some enthusiasm crack through his famously laid-back facade. At that moment, he wasn't a writer or a television host. He was simply a music fan, lucky to be hanging out with the coolest band in town.
That trip to Myanmar became the premiere episode of Parts Unknown, and it remains the most indelible of the show's 11 season run. On a journey that included a local food writer, a journalist, an astrologer-slash-convict, and restaurateur Philippe Lajaunie, Bourdain feasted on tea leaf salad, Burmese style curries, and a traditional breakfast soup of noodles in fish broth.
The 2013 broadcast aired just as Myanmar was opening up to mainstream tourism for the first time in decades and it inspired scores of travelers to follow in his footsteps. And it was the beginning of Parts Unknown's long tradition of combining food, culture, and politics, a theme which peaked in Season 8 when Bourdain ate cheap noodles with President Obama in Hanoi.
2. Congo (Season 1, Episode 8)
Picture this scene. A weathered boat silently glides down the Congo River. On board, Bourdain's efforts to make Coq Au Vin for his team are excruciatingly laborious. He's saddled with a knife so dull it will barely cut. The power flickers out. Bugs flail with insanity around a makeshift spotlight and their frenzied energy is contagious. It's the culmination of an incredibly aggravating yet rewarding journey, one that Bourdain called the most frustrating filming experience of his life. And he wasn't simply vexed by the uncooperative chicken. Reporting on Congo's debilitating infrastructure and widespread poverty was an emotional exercise as well.
A trip to Congo was the culmination of a long obsession on Bourdain's part. And, thankfully, he found serene moments, like discussing traditional fishing techniques over a meal of tigerfish steamed in banana leaves. And there was humour too, like when he learned that the Congolese word for barbecue is…. "Barbecue".
As Bourdain himself said of this groundbreaking episode, one of the first to present Congolese food to a mass audience, it was, "Nine days of threats of imprisonment, confiscation of footage, and what was the most chaotic, difficult, yet amazing trip of my life."
3. Massachusetts (Season 4, Episode 8)
From the Mississippi Delta to the shores of Molokai, Parts Unknown revolutionized how Americans saw their own country. Over 20 different episodes showcased American cuisine and the most poignant, personal, and political of them all featured Massachusetts.
Anthony Bourdain cut his culinary teeth in Provincetown, a combination of idyllic seaside village, working-class fishing hub, and trailblazing LGBT haven. Bourdain embarks on a sentimental journey, dining with good-natured fishermen who turn somber while discussing the future over briny oysters and cold beer, and reuniting with an old friend to slurp bowls of Portuguese kale soup and marvel that they survived their anarchic youth. It's a wistful walk down memory lane and Bourdain remarks that "there were no happier stupider times" than his early days in Provincetown, learning about cooking, girls, and drugs.
The happy days of summer are left behind as Bourdain heads inland to Franklin County to delve into clambakes, corned beef and cabbage, old-fashioned raspberry cream pie, and a community imploding from widespread heroin use. It's arguably the most personal and political episode of the series. Bourdain, himself a recovered addict, is objective, sensitive, and patient as he explores their pain and devastation. In an especially powerful scene, he eats at the Shady Glen Diner and chats with the owner about the impact of drug use, crime, and economic devastation.
4. Marseille (Season 6, Episode 3)
Bourdain often seemed to be issuing an unspoken challenge to cities and towns to show him what they had, to give him something new. Marseille answered the call unlike any other. France's second largest city embodies Bourdain's hedonistic love of bad reputations and good food. It's home to everything he adores and, with best friend and fellow chef Eric Ripert by his side, the city comes to life in true Parts Unknown style as a gritty, madcap destination with a spectacularly underrated food scene.
It's an episode filled with classic Bourdainisms. He laments his dismal French and emerging middle age weakness — a fondness for soft hotel towels and warm bidets. He and Ripert head out to sea with a local fisherman, one of only five people who still use the traditional long line method. Meanwhile, Bourdain is beside himself with disbelief as the fisherman experiences one of his worst hauls ever. His presence seems to bring devastation to fishermen all around the world.
Before long, lunch is served in a luxurious restaurant overlooking the beach, but Bourdain is distracted, eager to see women sunbathing in the nude. When a selection of French and Corsican cheeses arrive, so obscenely beautiful and indulgent that it borders on the profane, the beach is forgotten in an orgy of exquisite tasting.
Through the veneer of crazy bromances with crime novelists, pizza truck owners, cliff divers, and documentarians, Bourdain showcases a new kind of masculinity, one that's equally at home with a grumbling fisherman as it is navigating multiple courses of deconstructed bouillabaisse.
5. Copenhagen (Season 2, Episode 5)
In the days following his death, Bourdain was praised as a democratizing force in the world of food and travel, relaxed and at ease showcasing the beauty of a Brazilian beach barbecue one day and the coziness of home cooked Persian comfort food the next. He was the champion of the under-explored and the under-appreciated. But then came Copenhagen.
It was a mainstream destination and Bourdain felt ill at ease for visiting. His field notes detail his love of chaos and his discomfort with the precision of a pristine Scandinavian city. But Copenhagen, that most orderly of destinations, was home to arguably the best restaurants in the world and Bourdain couldn't resist. The visually stunning episode is a credit to his crew, who take cues from the tradition of Danish design and the outlandish creativity of the Copenhagen chefs to create a show that's a feast for the eyes.
And as Bourdain dined on the finest food that Copenhagen had to offer — wild lobster claw and nasturtium petal broth, grilled onions with fermented pears and salt made out of wood ants, and quail egg cooked in hay — it somehow didn't feel pretentious or elitist. It was just another meal with fine ingredients and chefs doing their best to make people happy. The beauty of this episode, of the entire Parts Unknown series, really, is that Bourdain makes it okay to lust after the most exquisite and superlative of culinary experiences, all the while inviting us to join him as he tracks down a great hot dog at the end of the day.
He was irreplaceable, and he will be missed.