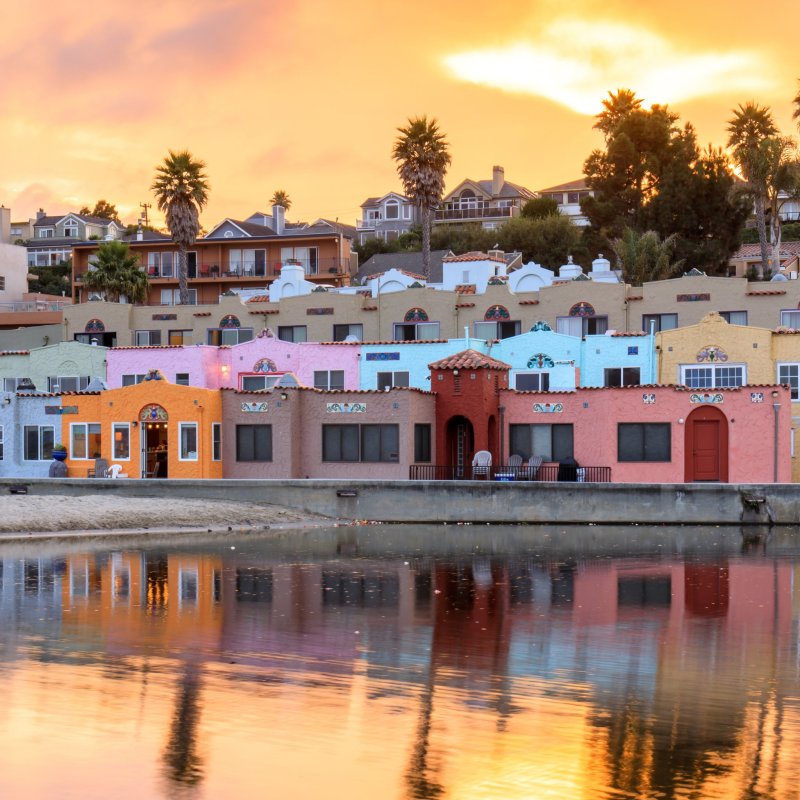 The scenery alone makes California's Highway 1 a drive worth taking. The highway hugs the edge of forested mountains, winding its way past rugged cliffs and expansive Pacific Ocean vistas. The number of parks, quaint towns, and attractions along the way make it a trip of a lifetime.
Here are 10 coastal towns to visit on your drive north along Highway 1.
1. Oxnard
Oxnard may at first seem like any other medium-sized urban area, not worth exiting the Pacific Coast Highway to explore. But on the western edge of this city with a small-town vibe, you'll find over seven miles of quiet, sandy beach with dunes and walking trails. A section of the beach is named Hollywood Beach because of all the rich and famous people who lived there. A large, protected harbor offers boating, kayaking, sailing and excursions to the biodiverse Channel Islands National Park & Channel Islands National Marine Sanctuary, known as "America's Galápagos." Pick up some strawberries from one of the market gardens before leaving town; Oxnard produces some of the sweetest strawberries in the country.
2. Morro Bay
Morro Bay is one of the few remaining fishing villages along the California coast. It is sometimes referred to as the Gibraltar of the Pacific because of the large rock just offshore, from which the town takes its name. The funky maritime feel of the town invites you to linger. The Embarcadero, the boardwalk along the waterfront, is lined with shops, restaurants with fresh seafood, galleries, and quirky museums. You may catch a glimpse of sea otters or sea lions as you wander. Harbor cruises provide a further opportunity to look for sea life.
3. Cambria
Cambria is a four-in-one experience.
Trails in the Fiscalini Ranch Preserve offer views of Cambria's rugged coastline.
Odd white translucent stones composed of a mineral called chalcedony are strewn across Moonstone beach.
On the inland side of the Highway you'll be charmed by Cambria's other two attributes. The core of the original townsite contains buildings of varying architectural styles dating from the late 1800s. (You can pick up a map at the Cambria Historical Museum and plan your own self-guided tour.) Cambria is also known as a very artistic community, the West Village containing galleries, studios and boutiques.
4. San Simeon
San Simeon is a small town of under 500 people, but there are three attractions in the area worth stopping for: Hearst Castle, Piedras Blancas elephant seal rookery, and Piedras Blancas Lightstation.
From a distance, the mansion on top of the hill looks like a fairy tale. Up close Hearst Castle's opulence overwhelms. Media tycoon William Randolph Hearst built this hilltop estate, which he called La Cuesta Encantada (Spanish for "Enchanted Hill"), redolent of a Mediterranean village. Grand terraced entrance, fountains, Egyptian sculptures, mosaic tile floors, an indoor pool like a Roman bath decorated with tiles of fused gold — it was all calculated to impress. Hearst entertained lavishly here, and you can still take one of several tours highlighting different features of the property.
Piedras Blancas elephant seal rookery is five miles north of Hearst Castle. Elephant seals come ashore here several times during the year to breed, give birth, molt, and rest. These massive marine mammals are both ugly and beautiful. From the viewing areas, you can watch the seals huddle together, push their torpedo-shaped bodies along the sand, and lunge chests at each in real or mock fights.
Piedras Blancas Light Station, situated on a point jutting out into the ocean just under two miles away, is visible from the elephant rookery. The lighthouse began operating in 1875 and continues to serve as an aid to navigation. It is managed as a historic park and wildlife sanctuary. Access is by guided tour only, with these operating only on certain days. Check the website.
5. Carmel-By-The-Sea
The pretty streets of upscale Carmel-by-the-Sea contain galleries, boutiques, and charming restaurants. A village-like atmosphere invites you to stroll and browse at your own pace. For those wishing to spend more than a few hours, luxury inns and hotels provide comfort, pampering, and romance. The second of California's missions, Mission San Carlos Borromeo de Carmelo, sits at the entrance to the town. A museum showcases the history of the mission and its peaceful gardens encourage meditation.
6. Monterey
Monterey is more than just a stop along the Coastal Highway; one could easily spend several days here. Its most popular attractions are the world-class Monterey Aquarium and the scenic 17 Mile Drive, a private roadway winding along rugged coastline and through the legendary Pebble Beach Golf Club, but there are many other things to see and do as well.
Cannery Row, once home to sardine-canning factories and the inspiration for John Steinbeck's novel of the same name, is a waterfront street where you'll find restaurants, shops, hotels, wine tastings, and boardwalks offering views of Monterey Bay, a large marine sanctuary. Many original buildings remain. Watch for signs pointing out self-guided audio tour points of interest. (Audio information is available by calling the phone number on the sign.) There's also Monterey State Historic Park, a collection of 55 historic buildings interspersed through old Monterey.
Old Fisherman's Wharf has restaurants, shops, galleries, fishing and cruise boats and beautiful sunset views. Sea lions play along the pier at San Carlos Beach. Ocean Boulevard and Sunset Drive hug the shoreline and provide an alternative to 17 Mile Drive. You may want to stop at Lovers Point Park beach to picnic and enjoy the scenery and at Asilomar Beach to walk its trails.
7. Moss Landing
Moss Landing is a small hamlet with a population of about 200. It isn't touristy, but feels like a working town. Still, there are a few attractions for visitors in the form of galleries and antique shops. Among the commercial fishing boats in the harbor, you'll find fishing charters and whale watching cruise boats. Moss Landing sits on the edge of Elkhorn Slough Reserve, one of the largest wetlands in the state and a top birding location.
8. Capitola Village
Capitola Village is one of the oldest vacation retreats on the Pacific Coast, and it feels like stepping into a Mediterranean fairy-tale village. Its relaxed downtown includes colorful buildings, Victorian houses, boutiques, restaurants, bars, and coffee shops, all around large areas of sandy beach. Its long wharf, originally built in 1856, was rebuilt in the 1980s following storm damage and is still made of wood, with fishing allowed from the pier.
9. Mendocino Village
You would be justified in feeling as if you'd stepped into a movie setting in Mendocino Village. It was the inspiration for the fictional town of Cabot Cove in the television series Murder She Wrote. Set on a slightly hilly peninsula surrounded on three sides by coastal bluffs and containing many Victorian homes, Mendocino Village is enchanting. This former logging town is now an artist community with galleries and unique shops. Many of the Victorian homes have been turned into bed-and-breakfast inns.
10. Fort Bragg
Fort Bragg doesn't prima facie have the same quaint atmosphere as some of the other villages and towns along the Coastal Highway, but there are several reasons to spend time here.
The Mendocino Coast Botanical Gardens contain a variety of flowers and grasses, but are best known for their brilliant selection of rhododendrons that bloom in March and April. A coastal bluff provides magnificent ocean views.
You can hunt for colorful bits of sea glass along the craggy shore of Glass Beach in MacKerricher State Park. The sea glass is trash, bits of broken bottles and car tail lights, leftovers from the days when the ocean was used as a refuse dump. If you find sea glass in the park — leave it there. It is illegal to remove sea glass from state parks. If you have difficulty finding sea glass yourself and want to see samples, you can visit The Sea Glass Museum. Admission is free.
Pacific Star Winery, twelve miles north of Fort Bragg, offers more spectacular ocean views. Its grounds on a cliff overlooking the ocean make a great spot to picnic and listen to the crashing waves.
A former software development project manager, Donna Janke now devotes her time to travel and writing. She gets excited when she discovers delightful attractions in unexpected places. She finds fascinating stories everywhere, be it in her own backyard or halfway across the globe, and loves to share those stories through her writing. When not on the road, she can be found at home on the Canadian prairies. More of her stories can be found on her blog Destinations Detours and Dreams.