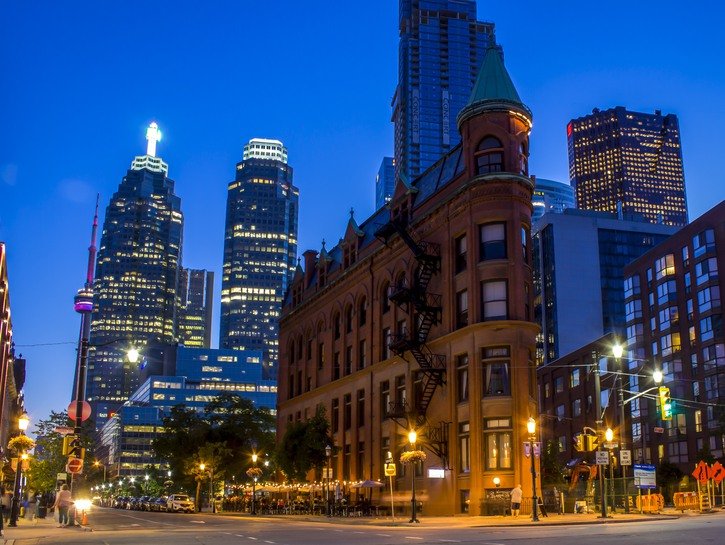 We've narrowed it down to five of our favorite restaurants in Toronto (both expensive and affordable), and between the, they offer enough variety to satisfy any diner.
1. Alo (Spend a lot)
Recently voted Canada's best restaurant, Alo takes the cake as Toronto's top destination for your inner foodie. Chef Patrick Kriss serves up outstanding contemporary French cuisine located atop a heritage building in the heart of downtown. The dining room offers blind, multi-course tasting menus, which are paired with distinctive wines with the help of knowledgeable sommeliers.
The menu changes quite often, but you can expect highlights such as fennel custard with lemon and olive oil foam, smoked foie gras with chestnut crumble and sweet potato chips, and hedgehog mushrooms with purée of celery root, chicken skin in gel sheet form, and crisped trumpet mushrooms.
Reservations for Alo open two months in advance, and it is notoriously difficult to score a table. But it's totally worth it if you have the time and budget to experience the best food Toronto, nay all of Canada, has to offer.
2. Bar Buca (Spend a little)
Bar Buca is an Italian-style snack bar in the trendy King West neighborhood of Toronto, offering creative dishes and cocktails that are to die for. Sourced from fresh, authentic ingredients, Chef Rob Gentile's creative small plate menu packs a serious flavor punch. You can enjoy items such as stuffed Focaccia, tuna carpaccio with squid ink salt and fennel fronds, and skewers of baby octopus and soppressata. Be sure to stick around for dessert, because Bar Buca's cannoli is out of this world.
This off-the-beaten-path gem of Toronto won't put a huge dent in your wallet, but it will put a huge dent in your appetite. Trust us: you'll walk away impressed and thoroughly satiated.
3. Bar Isabel (Spend a lot)
Bar Isabel is a Spanish-influenced eatery nestled in Toronto's College & Ossington neighborhood. This 75-seater is the stable of local chef and restaurateur Grant van Gameren who owns several other restaurants around the city. This intimate dining experience is the gift that keeps on giving, with excellent food being served up until 2:00 am on weekends.
Along with the best octopus in town, the menu has a variety of twists that will keep you coming back, such as the patatas bravas, ceviche salad with sea bream, and the foie gras on toast – along with the cocktails which are fantastic. Do your taste buds a favor and book a table at this trendy restaurant.
4. Honest Weight (Spend a little)
Honest Weight is a quirky place. Located in the heart of the Junction neighborhood (so named for all the train tracks and rail yards that once made it a hub), Honest Weight has a rabid social following largely full of people who have fallen in love with the primarily fish-based menu.
Dishes like an Atlantic cod sandwich with dill mayonnaise might just have you falling in love too. The scallop toast will completely change your idea of toast, and their kebabs are always worth an order.
Meals average around $10-20 depending on whether you're there for lunch or dinner, and we guarantee you'll feel full by the time you leave!
5. Scaramouche Restaurant (Spend a lot)
Scaramouche is one of the most charming restaurants in town. Slightly north of the downtown core, this sophisticated and complex French restaurant consistently serves up some seriously special dishes cooked to perfection.
Notable entrees include the Galloway oysters, Roasted Quebec duck, and house-pickled pastrami with a side of foie gras mousse on toast. All the dishes are accompanied by an extensive wine list, as well as fabulous service — a long-standing Scaramouche hallmark. It's not necessarily the "trendiest" spot in town, but this restaurant should be near the top of your list for a wonderful culinary experience in Toronto.
It's hard not to be overwhelmed by all of the fantastic dining options you'll find in Toronto, and while it's hard to go totally wrong, we recommend starting with these 5 spectacular spots. Once you've gone through this list or at least the ones that appeal to you, you might want to check out some other noteworthy options that didn't quite make the cut such as Byblos, Grand Electric, DaiLo and Yorkville Buca.
We expect that you're already salivating at the thought of some of these delectable meals, so go grab a bite at one of these amazing restaurants and let us know what you think!