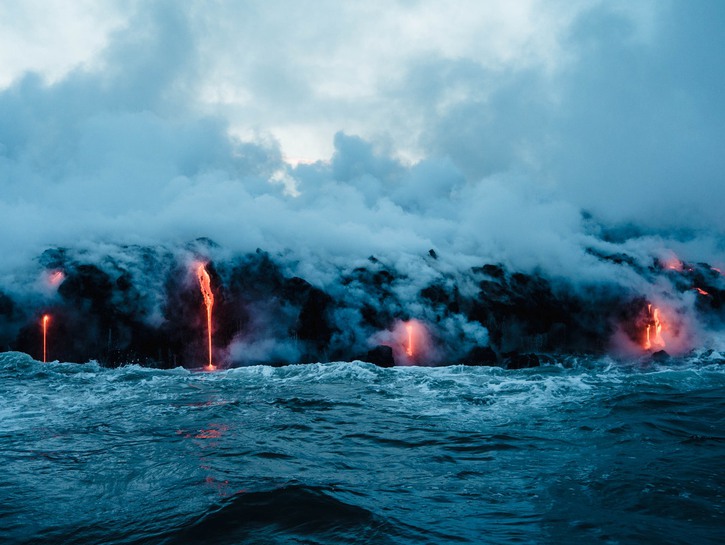 From erupting magma to the bizarre hala fruit, set your sights on exploring the unforgettable features of Hawaii. Here are five ideas to help you make the most of your trip to the Aloha State.
1. Black Sand Beach
Most people travel to the Hawaiian Islands to see the pristine, white-sand beaches. If you're looking to ditch the crowds but still want to visit one of the most beautiful beaches in the world, you should make your way to the Big Island locale of Mountain View. Black Sand Beach is as striking as it is geographically unique. Created by lava streams of basalt rock, this beach is covered in jet black sand that perfectly contrasts with the swaying palm trees and lush greenery.
Also known as Punalu'u Beach, this location looks like it's out of a dream. It is also home to numerous rare and endangered forms of wildlife, such as the Hawaiian Monk Seal. Black Sand Beach is a must-see for anyone who wants to take in one of the rarest geological sights on the planet.
2. Big Island Bees
Hidden away along the Kona Coast is one of mother nature's best-kept secrets. Big Island Bees is one of the most reputable honey farms in the entire country. Family-owned and operated since 1972, Big Island Bees produces organic, all-natural honey using only their hives and a slow preservation process that requires no chemicals.
The rich, delicious honey produce at Big Island Bees is undeniably different. Three times a year, their 120 million bees are brought to a different part of the island to feed on a nectar from a rare flower – giving their honey a flavor that only the diverse ecosystem of Hawaii could produce. Browse the many varieties of organic honey and beeswax products for sale, or take a beekeeping tour around the grounds. Big Island Bees is a great stop and an important business to support for nature-lovers and honey enthusiasts alike.
3. Taste The Hala Fruit
The state of Hawaii is one of the best places to enjoy extremely fresh and exotic fare. Hala fruit – native to the Pacific Islands – is one of the most absurd-looking fruits on the planet. Covered wth a bunch of individualized segments that resemble pine cones, this piece of produce is nevertheless undeniably sweet and versatile.
The taste can be described as comparable to a particularly sweet mango, so this is definitely a good option to satisfy your sweet tooth. Chew a piece of the fruit raw, or boil the pulp with grated coconut. This eye-catching fruit is a definite delicacy. You can even use the green outside shell of the hala fruit as an all-natural dental floss. Native Hawaiians have been using this exotic fruit to cure illness and make natural dye for generations. Your trip to the Hawaiin Islands isn't complete without trying this one-of-a-kind treat.
4. Braddah Hutt's BBQ Grill
If you are searching for some of the most mouth-watering food the Hawaiian Islands have to offer, a drive out to the remote town of Hana is worth your while. Nestled on Maui's southern shore, this sleepy region is nevertheless home to a world-class restaurant. On the superficial level, Braddah Hutt's BBQ Grill is a quaint food truck with limited outdoor seating surrounding it. But one bite is all you'll need to see what the buzz is about.
Some of the most popular dishes served up at Braddah Hutt's BBQ Grill include their signature barbeque chicken, shrimp pasta, and savory fish tacos. The laid-back atmosphere – all the food here is served on paper plates with plastic forks – just adds to the authenticity of this legendary eatery. Although this food truck is a little out of the way, it is arguably the best barbeque in Hawaii. Be sure to make your way to Braddah Hutt's to really savor the flavor of the Pacific!
5. Curtain Of Fire
As you probably know, Hawaii is home to the largest active volcano in the world, but the most spectacular show doesn't come from its constant eruptions. The Curtain of Fire – located at the base of the Kilauea volcano – is caused by the release of carbon dioxide gas from the volcano. The result is a magnificent wall of brightly-colored magma, caused by the expansion of gas within the volcano's vents.
The pressure and weight of the lava are so great that this massive landform literally explodes with magma. This force of nature is certainly worth a look, but be sure to check on the volcano's status before you make your way to Volcanoes National Park. You want to make sure you'll be allowed to see the Curtain of Fire in all of its glory!
There's no shortage of exciting places to visit and things to do if you're lucky enough to visit Hawaii, but you don't have to stick to the typical itinerary. Hopefully, these we've given you some food for thought – or at least a few slices of hala fruit!