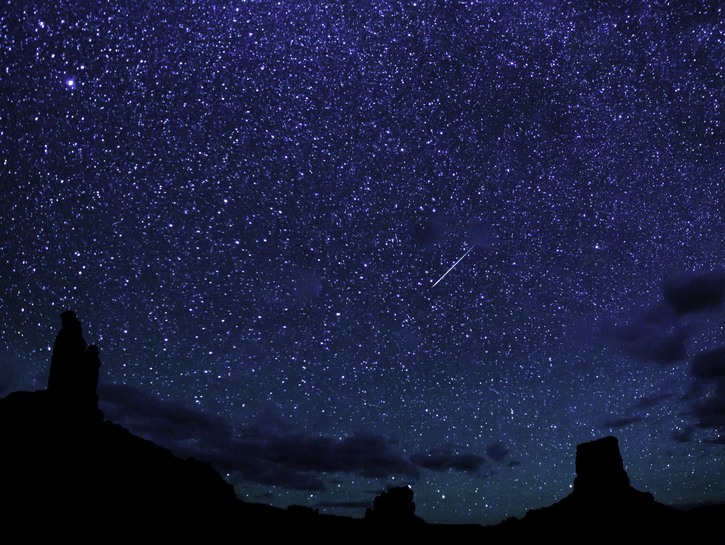 Towering sandstone formations rising from seemingly endless scrubs make the Valley of the Gods a true testament to America's natural beauty. Here are five things you need to know before going.
1. It Is Quieter Than Monument Valley
Known for its stunning views, Monument Valley is the tour most people take to explore the wilderness of the Southwest. Its sandstone buttes and vast wastes have been featured so prominently in media and popular culture that Monument Valley has come to define the way most people think of the American West.
The Valley of the Gods is very close to Monument Valley (approximately an hour's drive away), and as such has a very similar landscape with sandstone buttes, mesas, and towers. However, because it is less iconic, the tour around the Valley of the Gods is considerably less crowded. This gives it a much "wilder" feeling, as you are less likely to have other tourists surrounding you or blocking your view.
Essentially, they each offer something different: Monument Valley is more spectacular in its scale and fame, but the route is often crowded with a line of cars. This combined with the $20 entrance fee means that it has a distinctly more "touristy" vibe. Valley of the Gods is smaller, but it is free and relatively uncluttered, giving you the opportunity to feel like a true adventurer of the old west. If possible, it is recommended to visit both.
2. It Is Located On Public Land
In 2017, President Trump reduced the size of the Bears Ears National Monument, countermanding a proclamation made by former President Obama. The new map of Bears Ears does not include the Valley of the Gods, as the old one did. Fortunately, it remains well protected nonetheless.
Valley of the Gods is BLM (Bureau of Land Management) property, meaning it is completely open to the public. This is why it is free, but there is also another benefit. Because Monument Valley is located on Navajo land, there are more restrictions for visitors. Most backpackers will travel with a Navajo guide, and you need to obtain permission from the tribe before hiking into the backcountry. Some features, such as the sacred Navajo Mountain, are off-limits.
Valley of the Gods, on the other hand, has no such restrictions. The wide backcountry is open for exploration, an exciting prospect for lovers of camping and hiking. However, this does have its downside: Valley of the Gods does not have any facilities, so anyone adventuring here will have to be fully self-sufficient. Do not attempt this if you are not a seasoned hiker or camper with adequate food, shelter, and orientation skills.
If camping is not your thing, but you want to stay nearby, there is a Valley of the Gods Bed and Breakfast that will be more than sufficient for those who like to combine adventure and comfort.
3. Prepare For Rough Terrain
Valley of the Gods is a 17-mile loop of road that passes multiple geologic formations. You can drive the whole route in an hour, but you can also go slower to enjoy the changing landscape as you progress. The fact that it is not very crowded also means that there is less pressure for you to go at a faster pace, and you can see the Valley in as much or as little time as you want.
However, it can be a rough ride. The road is mostly gravel, clay, and dirt, and there are some sharp turns and steep inclines. In dry weather (most of the year, FYI), the Valley can be covered in a regular car with little to no difficulty. However, in wet conditions, you may need a 4×4 to complete the visit; even then, the road may be impassable in places.
4. Know The Highlights
The buttes and monoliths here have been carved by the elements over 250 million years out of Cedar Mesa sandstone. A few of these formations are more famous than others, and it pays to learn about these before you go so you can maximize your enjoyment. Make sure you know what to look out for by researching the most famous landmarks. Some points of interest include Castle Butte, Setting Hen Butte, Lady in the Bathtub, and Seven Sailors Butte.
Knowing the names of the landmarks makes it more fun, as you can try to make out the shapes, and see how they change from different angles: can you spot the flat sailor caps on the Seven Sailors, and do you see the shape of the lady sitting in her bathtub?
5. Go At Sunrise Or Sunset
The Valley of the Gods is stunning at any time of day, but for a truly unforgettable experience, get up early and go before sunrise, or head out at sunset. Visiting during these magic hours will ensure breathtaking views of the valley's stone minarets silhouetted against the low sun, casting dramatic shadows across the plains.
When you combine this with the relatively few rival tourists – which are likely to be even fewer at dawn – you are in for an undisturbed natural spectacle unlike any other. If you are a photography enthusiast, this is when you are likely to get the most exceptional pictures.
If you're an outdoor person or simply have that Jack Kerouac wanderlust in your soul, Valley of the Gods should be on your list. It will satiate your spirit of adventure, and inspire you on to explore even more of our nation's natural inheritance.