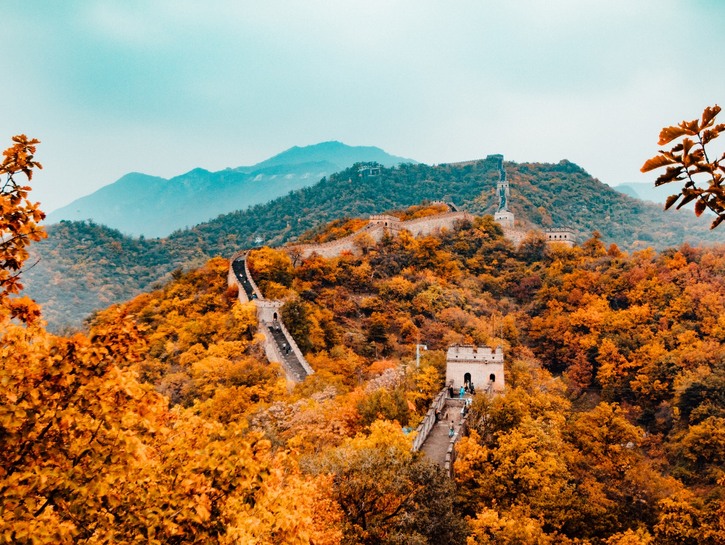 China is one of the great ancient civilizations, and with so much history and culture, there's a wide selection of interesting activities.
1. Morning Tai Chi In A Local Park
For a first-hand glimpse at Chinese culture, you won't have to look far from wherever you're staying. Simply find a local park, and you'll likely discover groups of people practicing some tai chi or qi gong, popular forms of exercise.
Some of these sessions are informal, while others are more like organized classes, but all of them tend to wrap up around 9 am. What better way to start the day than with some refreshing exercise?
2. Completely Unique Food
Whether you're planning to try some exotic dishes as a one time thing, or you intend to sample some authentic perennial favorites, China has the food market completely cornered! Travelers with an adventurous pallet will have a particulary good time here.
If you're feeling especially bold, try some beondegi, a crunchy, juicy snack made from silkworm pupae. They even have a bird's nest soup that is made from, you guessed it, bird spit! Just be prepared to pay a premium for some of the rarer delicacies.
3. The World's Largest Mall
China is home to the world's largest mall, but if you feel the urge to do some shopping, you might want to look elsewhere.
The South China Mall was opened in 2005, and has some astonishing features like a mock Venetian Canal and an 85-foot replica of the Arc de Triomphe. But despite its immense 9.6 million sqare feet of floor space and attractions like roller coaster rides, it's become a complete ghost town.
The only regular visitors to the mall are the customers and workers who man the fast food chains on the outskirts of the mall. Still, it might be worth checking out for its immensity alone!
4. The Bailong Elevator
Heralded as "the highest, the fastest, largest-loaded outdoor elevator in the world" by Guinness World Records, the Bailong Elevator, or "Hundred Dragons Elevator" as it's also called, is located in Zhangjiajie's Wulingyuan Scenic Area, a World Natural Heritage site.
With a total height of 335 meters, the elevator takes as many as 50 visitors at a time up the mountain for some spectacular, albeit slightly terrifying, views of the surrounding peaks and valleys.
5. The Coolest Army Ever Seen
The creation of the Terracotta Army was a feat of patience and craftsmanship, and although it's a popular sight, most people don't know how painstaking the construction process really was.
All 8,000 of these "toy" soldiers have totally unique facial expressions. They were originally crafted to guard an Emperor's tomb in Xi'an. Perhaps the mesmerizing detail is the reason it took roughly 37 years to complete the entire army!
6. A Railway System From The Future
There's no competition between China's railway system and any other in the world. Perhaps most astounding is the fact that all of China's railway lines put together could loop around the earth… twice!
The railway completes well over 2 billion passenger trips every year and the government is planning on expanding this system even more ambitiously in the coming years.
7. Unheard Of Frozen Treats
It can get pretty hot in China, so residents and visitors often take advantage of unique frozen treats. Have you ever tried a green bean flavored ice pop? You can if you're in China!
The best part of treats like the ice pop is they're delicious but healthy at the same time, not to mention that it's a flavor you won't find in many other places.
8. "Friends" Go To China
If you're visiting from North America and feel you need a little slice of home, look no further than Beijing's replica of The Central Perk, the coffee shop that formed the main set-piece in the popular TV sitcom Friends.
The owner, Du Xin, says that the TV show is basically his religion, and he's gone to painstaking efforts to recreate his favorite TV cafe down to the smallest detail.
Episodes of the show are played constantly and you can also get snacks that were actually featured in the show.
Xin even created a replica of Joey's apartment next door.
9. The Fastest Growing Economy
Everyone knows China is one of the most powerful nations on Earth, but what's less well-known is that they've grown their economy 7 times faster than America over the past decade.
That's led to some truly remarkable developments in the country's more affluent areas, such as Hong Kong, which also boasts the most skyscrapers of any city in the entire world.
10. The Dragon Escalator
Dragons are a big part of Chinese mythology, and they commemorate this with unique works of art like The Dragon Escalator.
Located just north of Beijing, this is the world's longest outdoor escalator. It takes visitors to the top of China's largest dam, which is, of course, also shaped like a dragon!