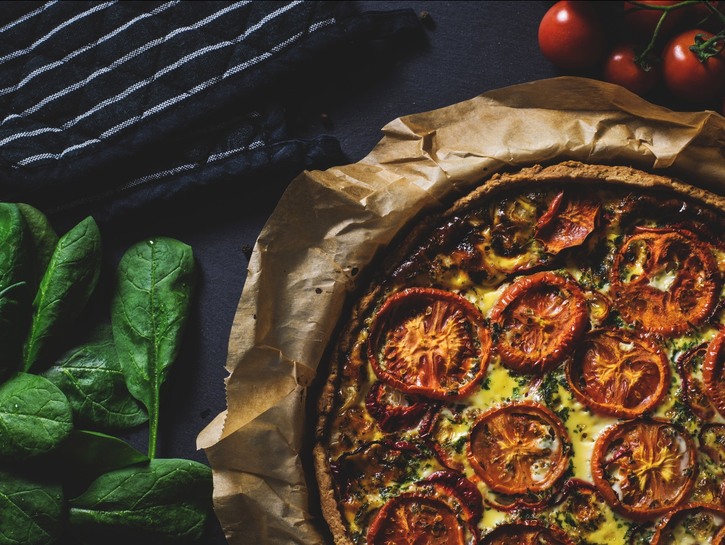 A grilled buttered bun overflowing with fresh juicy lobster.
A glistening slab of ribs that gently falls apart when you pick it up.
Delicate Dungeness crab with a glass of champagne.
These are the memories that turn a vacation into an experience. Part of the way we learn about the people and places we visit is through food. So it's only natural that we want to take some home with us, to savor and share so that others can catch just a taste of our adventures.
These are the most delicious 'vacation foods' you can totally order once you get home. Bon appetit!
1. Alaska: Alaskan Salmon and Dungeness Crab
Long before The Deadliest Catch became a hit TV show, Alaskan fishermen were sharing their products with visitors to the state. If you've taken an Alaskan cruise, you've most likely devoured fresh salmon or Dungeness crab during your voyage. If you didn't have the forethought to check an empty cooler on the plane, you're in luck. You can order Alaskan seafood straight from Homer to your home. Coal Point Seafood company will ship just about everything you can find in the Gulf of Alaska. Just don't forget a good glass of bubbly to go with the Dungeness Crab!
2. Arizona: Jack Daniels Pie, Rock Springs
The four-hour trip from Phoenix to the Grand Canyon gets a little longer when you stop at Rock Springs Café, less than an hour north of the city. The café is known for its pies, especially the Jack Daniels Pecan Pie. This mouthwatering treat is one of about a dozen choices. Once you hike into the canyon or go for a long walk along the rim, you'll be wishing you had bought the whole pie instead of just a slice. Luckily, they can have get a pie to your place in less than a week, giving you enough time to burn some calories before it arrives.
3. Boston: Cannoli from Mike's Pastry and Oysters from Island Creek Oysters
Located along the popular Freedom Trail in Boston's North End, Mike's Pastry delights tourists and locals with homemade cannoli and other Italian favorites. After your first bite, you'll wish you had ordered more, and the good news is you can. While the shop offers a multitude of flavors, you can only order the original online and you must fill the shells yourself (which is fun to do). One bite and you'll be right back on Hanover Street.
Island Creek Oysters started by selling their farm-raised fare to Boston area restaurants. Now they have their own oyster bars, and supply restaurants from Canada to the Caribbean. Sure, you might be able to find them on the menu at your local seafood restaurant, but it's just so easy, and probably cheaper, to have them delivered to your door. The best part: shipping is FREE if you have them arrive during the week. You'll have to shuck them yourself, but it doesn't get any fresher than that!
4. Buffalo: Original Buffalo Wings from Anchor Bar
If you're headed to Niagara Falls, you must pass through Buffalo, New York, on your way – unless you're driving from Canada, of course. The city known for football fans who will tailgate in any kind of weather is also where the first chicken wing was deep fried and sauced in 1964. The Anchor Bar is home of the Original Buffalo Wing, and you can credit a group of hungry guys and a loving mother for that creation. More than 50 years later, Buffalo wings are served at practically every bar in America. But why order them at your corner bar, when you can ship them from the Anchor Bar. Why not go for the original, huh?
5. California: Wine
Yes, you can buy California wine at your local grocery or liquor store, but there are many excellent family-run vineyards in the state that you'll only find if you visit. While Napa and Sonoma seem to get the most attention, California is home to six wine regions which cover most of the state's coastal areas and inland valleys. 23.6 million tourists visit wineries each year, and if you've never been, put it on your list. Sipping wine with the person who made it, surrounded by the vines they planted, is an experience you'll remember years later, especially when you pop the cork on one of their bottles at home. Find a winery you really like, join their club and you'll get a discount on the wine and maybe even a deal on shipping.
Here's a list of the thousands of wineries in the state.
6. Chicago: Deep Pizza, Hot Dogs, Portillo's Italian Beef Sandwiches
The same passion Chicagoans have for their sports teams spills over to their food. While natives agree these are the three foods to order in Chicago, where to order will get about as heated as a debate between Cubs and White Sox fans. That said, for deep dish pizza, it's hard to go wrong with Gino's East, Giordano's, and Lou Malnati's.
You can tackle the other two favorites if you order from Portillo's. It's the hands down favorite for Italian Beef Sandwiches. They don't just send you the beef; you get gravy, rolls, oven roasted peppers, and hot giardiniera – everything you need to make it taste just like it did when you were in the Windy City.
Same goes for their hot dogs. Your order includes all the fixings to make a regular hot dog taste like a Chicago dog. Just imagine the orders that go out when the Bulls, Bears, Blackhawks, Cubs, or White Sox make the playoffs!
7. Cincinnati: Skyline Chili
It seems that Skyline Chili in Cincy is a subject of dispute among the locals. They either love or hate the number one food tourists want to try when they visit. If you fall into the 'love' (or 'like') column, be sure to order a Coney pack or Skyline dinner online. You'll get everything you need to make it original including the cheese and hot sauce!
8. Florida Keys: Key Lime Pie and Stone Crab
The laid-back island life of the Florida Keys is something everyone wishes they could bring home with them from vacation. You can get pretty close to feeling the ocean breeze when you take a bite of key lime pie or crack open a stone crab claw. The Key Lime Pie Co. will ship a whole pie to your house, or even several chocolate-dipped pie slices. If that doesn't have your mouth watering, Keys Fisheries can get you set up with some succulent stone crab. Now, you just need to order a few bags of sand, and your Florida Keys reenactment will be complete.
9. Kansas City: Ribs from Joe's Bar-B-Que
The first vacation stop on the Best BBQ in the Midwest tour is Kansas City. The city is home to legendary establishments like Arthur Bryant's and Gates. While they'll ship their sauces, relative new kid Joe's Bar-B-Que, will send you just about anything they can smoke. You'll have a tough time deciding between the Ribs, Burnt Ends, and Pulled Pork. Of course, you could just order the Contest in a Box and prepare for a meat coma. Don't forget to throw in a side of beans or dirty rice for good measure.
10. Maine: Lobster Rolls and Whoopie Pies
A rental home on Maine's rocky coast coupled with the smell of the salty air makes the state's delicious crustacean taste even sweeter while you're vacationing in Vacationland. It probably doesn't hurt that the lobster was pulled fresh from the chilly waters that morning. To recreate the experience at home, and possibly take it up a notch, check out Hancock Gourmet Lobster Company. The family tradition of homemade goodness comes through in everything they make from lobster rolls to lobster wellington.
Moody's Diner is located on Route 1 between Portland and Acadia National Park. It started its life as a motel, just as the automobile was becoming popular in 1927. Sheltering weary travelers may have come first, but feeding them quickly followed. Today, the same family still runs the motel and diner. They ship their yummy whoopie pies around the country! What they don't ship are their other famous pies. Be sure to try the Four Berry the next time you visit.
11. Memphis: Ribs from Rendezvous
Stop number two on the Best BBQ in the Midwest tour is Memphis, and a restaurant that makes ribs fit for a future king. Charlie Vergos' Rendezvous is where Princes William and Harry dined with friends a few years back. If you're questioning what the Brits know about BBQ, they were there as guests of a Memphis native and the restaurant was famous before the boys ever set foot inside. Memphis is known for its dry rub on ribs, so you'll need to order a few slabs to properly compare them to the other two stops on the BBQ tour. And, if you can resist ordering a Barbeque Nacho Box, you can sleep well knowing your willpower is stronger than most.
12. Michigan: Cherry Pie from Cherry Hut, Beulah
The shores of Northern Michigan are the perfect spot to savor the summer. These memories are best relived with a slice of cherry pie from the Cherry Hut in Beulah. For more than 95 years, the pie has been delighting locals and visitors with its signature smile. From a lakeshore stand to the restaurant that exists today, the cherry pie recipe remains the same. You can order a pie or three to impress your friends and convince them that Michigan summers are some of the best around.
13. Nebraska: Runza Sandwiches & Miller and Paine Cinnamon Rolls
Unless you're a Cornhusker, you may have not heard about Runza. The restaurant started in Lincoln, Nebraska, but now it has locations throughout the state. If you haven't travelled to Nebraska for vacation, you should. Omaha is home to Henry Doorly Zoo & Aquarium, one of the best in the country. When you visit, grab an original Runza which is made of ground beef, cabbage and onions inside homemade bread, and a Miller and Paine cinnamon roll for dessert. Still not convinced? Order some and then book your trip.
14. New Orleans: Coffee and Muffuletta
A must stop for anyone planning a trip to New Orleans is Café Du Monde. Their warm, powder sugar covered beignets delight tourists and locals alike. You can find the mix to make them throughout the country, but you can also order it online. Be sure to grab a can of their coffee to complete the experience.
Any New Orleans Native will tell you that Central Grocery is the best place to eat a muffuletta. It's sound advice since the sandwich was created there. What they may not know is that once you're hooked on the symphony of bread, meat, cheese, and olive spread, you're just a few clicks away from getting the sandwich whenever you want.
15. New York City: Cheesecake & Deli Sandwich
It may not get more New York than a traditional deli sandwich with a thick slice of cheesecake. Both Junior's and Katz's Delicatessen are beloved by locals and visitors for these (and other) specialties. Katz's has been around since 1888, while Junior's came about a few decades later in 1950. For a true New York experience, order a Pastrami or Corned Beef Dinner for two from Katz's, and the Original NY Plain Cheesecake from Junior's, although it will be difficult to resist the other cheesecake options.
16. Philadelphia: Cheesesteak
Anytime there's a televised sporting event in Philadelphia, you're guaranteed to see B-roll of visitors and locals inhaling Geno's or Pat's cheesesteaks. The two cheesesteak titans stare each other down every day in South Philly, but some locals will tell you their favorite cheesesteak in town is found at Tony Luke's. This statement alone – about who perfectly melds meat, cheese, and onions – could cause an argument in the City of Brotherly Love, but order a dozen and see for yourself. Let's just hope Philly natives are still euphoric from their Super Bowl win when they read this.
17. Rhode Island: Del's Lemonade and Clam Cakes from Iggy's
A trip to a Rhode Island beach isn't complete until you grab a Del's. The recipe for this slushy lemony concoction dates back to the mid-1800's in Naples, Italy. Today, you can even find the flavor combined with Narragansett Beer to create a fantastic Del's Lemon Shandy. Buy a tub online to enjoy some yourself, and make sure there's enough left over to help your grandkids run the best lemonade stand your neighbors have ever seen.
Order some clam cakes in Rhode Island and you may not get what you were expecting. They're a fritter and at Iggy's in Warwick, they're perfect with a cup of chowder while overlooking Narragansett Bay. You can order the chowder and the clam cake mix so that you too can experience some of the best the Ocean State has to offer.
18. St. Louis: Ribs from Pappy's and Levee High Caramel Pecan Apple Pie from The Blue Owl
This is the third vacation stop on the Best BBQ in the Midwest tour. And if recreating the tour isn't under serious consideration at your house yet, you haven't met Pappy. The line at Pappy's Smokehouse is out the door as soon as the restaurant opens every day in Midtown St. Louis. The actual restaurant doesn't ship, but Goldbely will send you four slabs. How much fun would it be to order from Kansas City, Memphis, and St. Louis for a party and let your friends decide the winner? And if you're a serious pit master, throw a slab of your own in the mix and see how you fare.
South of St. Louis, on the Mississippi River, there's a tiny town called Kimmswick. It's cute and quaint and known for its Strawberry and Apple Butter festivals. It's also home to the Blue Owl restaurant. It's always been popular with locals and a few years back, Oprah gave the Blue Owl's Levee High Caramel Pecan Apple Pie a little love just in time for Thanksgiving. The pie is made with18 thinly-sliced apples, and once the crust covers the mound of deliciousness, they top it with the caramel and nuts.
19. East Tennessee: Bacon and Ham, and Lemon Cookies
West Tennessee has the BBQ, but East Tennessee has the bacon. Really good bacon. Benton's Smoky Mountain Country Ham is located in Madisonville, and while the small town may not be on your vacation hot spot list, you may have tasted their slow cured goodness at Husk restaurants in either Charleston or Nashville. If it makes it on the menu at Husk, you know it's good. Just to be sure though, you really should try some of their bacon or ham for yourself.
We can't talk about East Tennessee without talking about Knoxville. If you haven't thought about the town since the 1982 World's Fair, or only drive through when you're headed to the Great Smoky Mountains National Park, you're missing a fantastic cookie. Ham 'n Goodys make a lot of things well, but their iced lemon cookies are perfection. If you're someone who thinks you need chocolate in your dessert, just try them. They're sweet, a little tart, and perfectly moist.
20. Washington D.C.: Half-Smoke from Ben's Chili Bowl
This D.C. institution has been around since 1958. Solidifying its place in history, Ben's was named a James Beard America's Classics winner in 2004. If you're wondering what a Half-Smoke is — it's a sausage that most agree gets its name from being made of half beef and half pork. You can order just the half-smokes or throw in the chili that so many like to put on top.