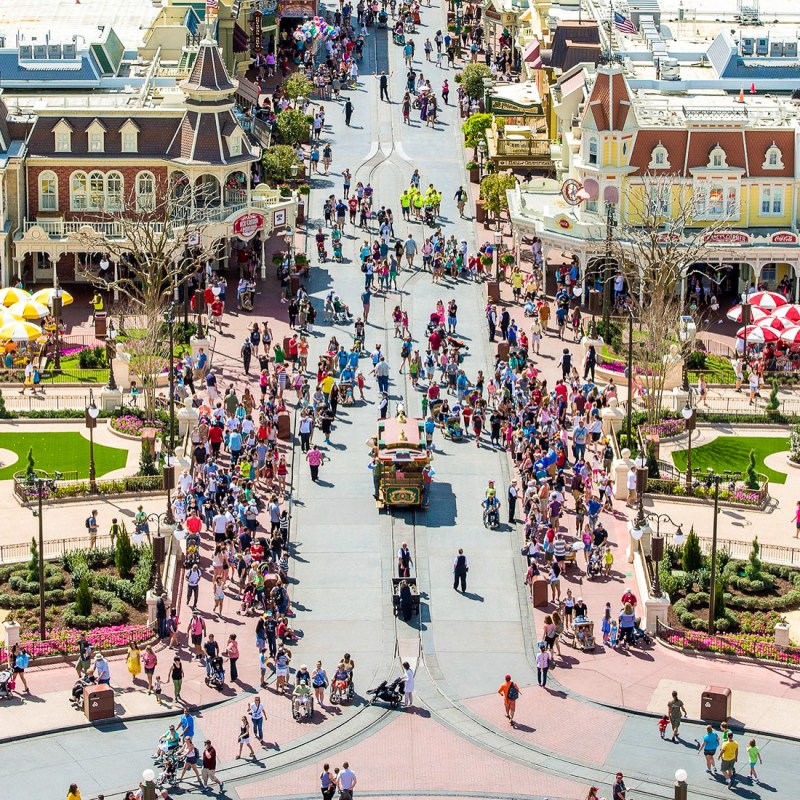 A Disney fanatic would tell you anytime is the perfect time to experience the magic of Walt Disney World in Florida. But, who really wants to wait 4 hours to spend a few minutes on the back of a banshee at Animal Kingdom? Add the Florida heat and humidity to the mix, and even the best temperament is tested.
A trip to Walt Disney World is filled with memories in the making, but it's not cheap, and there are certain times of year that can enhance the magic for your entire family.
For The Wait Times
If kids are out of school, you can assume Walt Disney World is busy.
It's not just summer vacation, but also spring break, fall break, and the Thanksgiving and December/January holiday breaks. Keep in mind, some kids start school in early August and get out in the end of May, while others don't go back until after Labor Day and go through mid-June. This means the fringe months of May and August aren't as crowded as mid-to-late June and July. The busy spring break time includes both March and early to mid-April and fall break usually hits the two weeks either side of the Columbus Day Weekend.
September, early to mid-November, the first part of December, and mid-January through February are usually the least crowded. Disney has come up with ways to boost attendance during these times with Festivals, special Halloween, Christmas, and Run Disney events, and even free dining offers.
Before you go, be sure to download the My Disney Experience app. It lets you keep an eye on the wait times, so you can spend more time on the rides and less time staring at the backs of other people's heads.
For The Festivals
Epcot is your spot for festivals at Walt Disney World.
From late summer through fall, eat and drink your way through the Food and Wine Festival. In mid-November through December, celebrate the Festival of the Holidays. Disney added Festival of the Arts in 2017 to fill the gap from mid-January to mid-February when not much was happening. And, starting in Late February, get a jump on spring at the Flower and Garden Festival.
Not only do they all have their own unique feel, but special food and drink offerings accompany each festival as well as musical performances, shows and events. Tip: During the festivals, certain restaurant reservations come with priority seating for the concerts held at America Gardens Theatre at Epcot World Showcase. Your meal won't cost any extra and you won't have to wait in line for the concert. I've seen some folks line up two hours early to get a good seat.
While Mickey's Not-So-Scary Halloween Party and Mickey's Very Merry Christmas Party aren't festivals, they are unique events you might enjoy. The parties do require a special ticket and the prices vary depending on which night you go. That said, the parades, treat stations, character experiences and fireworks at each event really make for a special night. Your ticket does allow you to enter Magic Kingdom at 4 p.m., even though the event doesn't start until later, so you can get in a few extra rides.
As I mentioned earlier, Run Disney events draw a crowd to Walt Disney World, even if just for a day or weekend. If you have a runner in your family, and your runner loves Star Wars, Princesses, or just empty parks before dawn, these are the races for them! If 26.2 or 13.1 miles is too much, there are shorter runs available during these special weekends as well.
For The Weather
If you've been to Walt Disney World anytime from May through September, you know everyone starts the day looking fantastically fresh, but they usually turn into puddles by late afternoon.
The good news is shorter wait times and Festivals somewhat coincide with better weather in Florida. It's still warm in March, April and October, but it's not stifling hot like June, July and August.
You do need to be prepared for an afternoon storm during the summer months. Tropical storms and even hurricanes can become an issue from late summer through fall as well, so be sure to bring a good poncho and plan to see one of the great shows offered in the parks in the afternoon.
Another option is to split up your day. Get to the park early, take a break at your resort after lunch, and then head back to the parks in the evening.
If you're someone who loves the heat and humidity, mid-December through February may not be for you. Not only is daylight at a premium, but it can be chilly. Native Floridians may even tell you it can get just plain cold. Pack a jacket, a long-sleeve shirt, and some long pants if the weather looks like it will be on the cooler side. Layers are a good idea for cooler mornings and evenings and warm afternoons.